VIJAYADASHMI
22 Oct, 2019
Vijayadashmi also known as Dussehra or Dashain is a major Hindu festival celebrated at the end of Navaratri every year. It is observed on the tenth day in the Hindu calendar month of Ashvin or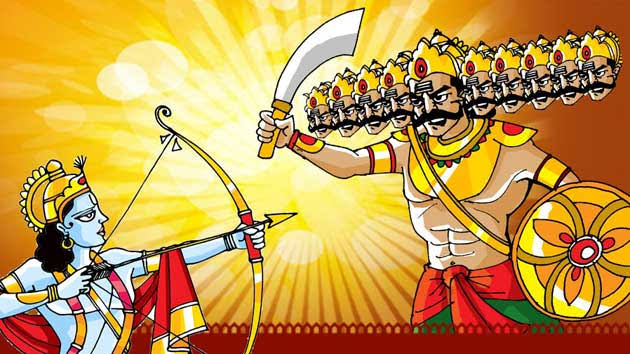 Kartik, the sixth and seventh month of the Hindu Luni-Solar Calendar respectively, which typically falls in the Gregorian months of September and October.
Vijayadashami is observed for different reasons and celebrated differently in various parts of South Asia. In the southern, eastern, northeastern, and some northern states of India, Vijayadashami marks the end of Durga Puja, remembering goddess Durga's victory over the buffalo demon Mahishasura to restore and protect dharma. In the northern, central and western states, the festival is synonymously called Dussehra (also spelled Dasara, Dashahara). In these regions, it marks the end of "Ramlila" and remembers God Rama's victory over the Ravan. On the very same occasion, Arjuna alone decimated more than 100,000 soldiers and defeated all Kuru warriors including Bhishma, Drona, Ashwatthama, Karna and Kripa, a significant example of victory of good (Dharma) over evil (Adharma). Alternatively, it marks a reverence for one of the aspects of goddess Devi, such as Durga or Saraswati.
So on the eve of this festival we had a small celebration in our school. Firstly a brief introduction was given related to this festival and so on with the thoughts related to dussehra. Even a skit related to the dussehra was also performed. The skit depicted the scene of the victory over the Devil Maheshasur by Goddess Durga. Though the celebration was short but it clearly stated that : "Truth or Good always triumphs over the Devil".
Dhriti
Class 8