ODD-EVEN CAR SYSTEM IN DELHI FOR CONTROLLING POLLUTION
03 Oct, 2019
It is touted by the Delhi state government as a noble air-cleaning mission. The scheme causes will malign the noble cause of improving air quality, and could well make the common man cynical or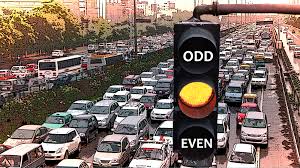 downright hostile towards green initiatives the country desperately needs. The level of carbon monoxide, the most poisonous gas in Delhi's polluted air increased substantially. Delhi experiment with restrictions on cars with the declared aim to control pollution. It puts the spotlight on the need for a holistic scientific and countrywide approach to combat air pollution. It is resulting in 20% holistic development and may result more in future. Country is going to develop holistically by this scheme. Safe transport will be there. The scheme is going to start after Diwali. In the week of this scheme traffic will be very less and time will be saved of many people. People can safely travel and drive as no chance of accident will be there.
This scheme shows many features:
* Less chance of accident
* Safe transport
* Increase in holistic development
The scheme was first implemented in 2015.Overall the implementation of the scheme is to curb pollution post Diwali. The rule will not be implemented on emergency vehicles. It has proved that odd-even scheme reduces pollution by 10-13% per week. Delhi CM said that there are 12 hot- spots in Delhi which are categorized as heavily polluted areas. For this, the government is planning measures to curb pollution.CM said that 1000 electric buses will be introduced to the capital soon. The odd - even scheme will be implemented only for private vehicles. Electric Vehicle Policy has been prepared to curb vehicle pollution. Pollution will be reduced as soon as possible. The vehicular pollution was a consistent source of air pollution and contributes up to 30% of particulate pollution. The main objective of Delhi EV Policy is to bring about a material improvement in air quality. The scheme only of it's kind, initiative in India by the Delhi government to fight air pollution by controlling the number of cars on road. Battery Electric Vehicles will be implemented, the registration will be done till 2023. It is said by the Draft Policy that at least 50% of all new buses produced for the city fleet will be fully electric buses. Enhancing, slowly it will ready future to be pollution free or less polluted. Overall, there will be development by the year 2023. The adoption of Electric Vehicles for road transport will contribute to a wide range of goals.
These goals include-
* Increase in better air quality.
* Noise pollution will be decreased
* It will enhance the energy security.
* It will also enhance in combination with a low carbon power generation mix.
* Green house gas reduction will be there.
Progress will be there till 2023..
BY : SUHANA SHARMA