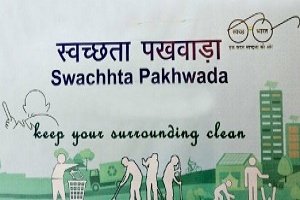 Swachhata Pakhwara
22 Sep, 2022
Swachh Bharat Abhiyan is a Swachha Bharat Mission led by our government to make India a clean India. This campaign was introduced by the Prime Minister, Narendra Modi and was launched on 2nd October in order to honor Mahatma Gandhi's vision of a Clean India. The cleanliness campaign of Swachh Bharat Abhiyan was run on a national level and encompassed all the towns, rural and urban. As a part of Swachhata Abhiyan , Swachhata Pakhwada was initiated with the objective of bringing a fortnight of intense focus on the issues and practices of swachhata meaning cleanliness . Swachhata means cleanliness and Pakhwada means duration of 15 days , this means it is an initiative of 15 days of different activities for swachha bharat mission. An annual calender is precirculated among the ministries to help them plan for pakhwada activities.
Pakhwada includes variety of activities such as Rallies , Prabhat Pheri, Distribution of Pamphlets , Wall Writing , Seminars , Lectures by Resource Persons , and other community activities. On behalf of Swachhata Pakhwada our unit had planned for short run for cleanliness, plog run ( combination of jogging and picking up litter on roads for swachha bharat ) , nukkad nataks , posters , and rangolis during diwali for spreading awareness about swachhata abhiyan , plantation of saplings. Many of our cadets had participated in different activities for swachhata mission making india clean. During this campaign our cadets had kept the roads and surroundings clean and help the government to spread the awareness about swachhata abhiyan by displaying banners and showcasing swachhata nukkad nataks.
We hope that through such campaigns and through such hard work of our cadets the nation can make steady progress. BEST SCHOOL FROM HIMACHAL PRADESH GIVES US DUTIE TO GATHER IN FORMATION. PGIMER is observing Swachhata Pakhwada from April 1, 2022. The initiative was started in April 2016 with the objective of bringing a fortnight of intense focus on the issues and practices of Swachhata by engaging various ministries/departments of the Government of India.
This is one of the key programmes under the Swachh Bharat Mission. Prof Surjit Singh, Director, PGI, emphasised the need to educate people about the virtues of good sanitation practices and urged everyone to undertake special drives to clean their workplaces. wachh Bharat Abhiyan's cleanliness campaign was run at a national scale and encompassed all cities, districts, at both rural and urban levels. It has acted as a wonderful campaign to make people aware of the value of cleanliness. In Rajghat, New Delhi, the drive for Swachh Bharat was officially launched and our Prime Minister Narendra Modi cleaned the streets himself at the launch of this mission.
It is the biggest cleanliness drive of India ever, with about 30 lakh government employees, school and college students participating in the activities. Nine famous personalities from India were initially nominated by the Indian Prime Minister, for beginning this campaign in their respective states or areas and taking the campaign further. He asked all nine of those personalities to call on nine other individuals (such as a tree branch) to continue this series until each Indian joined the mission, as it was planned for the next 5 years. The purpose of the mission is to assess certain important factors for the proper sanitation arrangements in the rural and urban parts of the country.
These factors include the availability of individual sanitary toilets in low-cost sanitary lavatories, hand pumps, proper bathing, hygiene, drains, soak pits, solid and liquid waste disposal. Population growth is an important factor that has to be considered for making proper sanitation arrangements. This mission also aims to promote health and hygiene literacy, environmental and personal hygiene.
The Government of India initiated sanitation programs under the name 'Total Sanitation Campaign' (TSC) for this mission, earlier on 1 April 1999, but it was not as successful even after taking effect. To eradicate pollution, India is in desperate need of a cleanliness campaign like Swachh Bharat Abhiyan. It is important in terms of health and well-being for the overall development of people.Since the majority of India's population lives in rural areas, it is a big issue to spread awareness about cleanliness. Generally, people don't have adequate toilet facilities in these regions.
They go out to excrete on fields or highways. For residents, this activity causes a lot of hygiene issues. This Clean India Mission may, therefore, be of great help to improve the living conditions of these individuals. As rural areas are the main focus of this mission, the quality of life of rural people will be improved by it. Most notably, it promotes public health through its goals. India is one of the world's most populated and polluted nations, and this mission will change the scenario.
What's more, Mahatma Gandhi's vision of ideal India will be fulfilled that day when we achieve the objectives of this mission. Let's promise ourselves to do this Best faculty in different school always guides the students for positive use of internet and to gather information. Swachhata Pakhwada" as a part of "Swachhta Abhiyan" was initiated, with the objective of bringing a fortnight of intense focus on the issues and practices of Swachhata-meaning Cleanliness.
To support this great initiative of GoI and to create an awareness about the need of cleanliness, Karunya Institute of Technology and Sciences had organized many events during the Observation of Swachhata Pakhwada from 15th Jan 2020 to 31st Jan 2020. Cleanliness Drive in Karunya" was organized by Rotaract Club of Karunya under the Centre for Extension Activities on 28th Jan 2020. The entire activity happened under the supervision of Director (Student Affairs) Dr. S. Albones Raj. The event was successfully coordinated by the Club Coordinator Dr. L.D. Vijay Anand, and his team of Programme Officers. The event was effectively executed by the Club President Rtr. Jaya Prakash T and the other members of the club.
The main purpose of this Programme was to create awareness among our students about the need and importance of clean environment. Even the Teaching & Non-Teaching Staff were the essential part of this cleanliness drive. The students were divided into 8 different groups and were sent to various locations to make sure that no part of the campus was left unclean and unnoticed.
Nearly 250 Rotaract Club members and 20 Faculty coordinators participated in this drive. They all gathered near the main Administration block by 04.00 PM and the cleanliness drive was set into motion with an introductory speech that explained everyone about the noble initiative. The gloves and masks were distributed to the members ensuring hygiene during the drive. To have a smooth run, each of our Rotaract Board members were assigned a team with which they coordinated the drive in their respective sector.
Nearly 270+ members were a part of this drive. By organizing such events every citizen of India will have an understanding about their responsibility of ensuring cleanliness and be motivated to join hands together to make this initiative a successful mission. BEST SCHOOL FROM KULLU WANTED THAT THERE STUDENTS HAVE CREATIVE MINDS.
Rishit Sharma
Class-IX