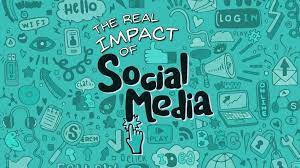 IMPACT OF SOCIAL MEDIA ON SOCIETY
08 Oct, 2022
IMPACT OF SOCIAL MEDIA ON SOCIETY
WHAT IS SOCIAL MEDIA?
Social media is a internet-based form of communication.Social media platforms allow users to have safe transport of conversations,share information and create web content.
There are many form of social media,including blogs,micro-blogs,wikis,social networking site,photo-sharing sites,instant messaging,video-sharing sites,broadcasts,widgets,virtual world and more.
BENEFITS OF USING SOCIAL MEDIA
Billions of people around the world use social media to share information and make connecation.On a personal level,social media allows you to communicate with friends and family,learn new things,develop your interests,skill development and be entertained.On a professional level,you can use social media to broaden your knowledge in a particular field and build your professional network by connecting with other professionals in your industry.At the company level,social media allow you to have a conversation with your audience,gain customer feedback and elevate your brand.
NEGATIVE IMPACT OF SOCIAL MEDIA
Social media can also use negatively affects teens,distracting them,distrupting their sleepand exposing them to bullying,romours spreading,unrealisticviews of other people's lives and peer pressure.the risk might be relate to how much social media teens use.
As social media is too convenient for people,almost of them don't even have to speak out to communicate with people.No longer people will lost their communication skills.The more serious problem is many people utilise the power of social media and use it to bully someone.
SANUL THAKUR
CLASS-VII